We're back with another installment of The Wishlist Trick so we can order Transformers Siege Greenlight even while the product listing is not available.
Update: As of the time of this addendum, Amazon has updated Greenlight so only Amazon Prime members can order it. If you don't have Amazon Prime, you can click this link to see if you qualify for a free 30 day trial so you can get your order in. Signing up for an Amazon Prime trial is a great way that you can help the site out at no cost to you, because I get a small referral fee for every trial sign up whether you go on to stay subscribed or not. That out of the way, the rest of the guide proceeds exactly as before…
Greenlight is the retool of Power of The Primes Moonracer – which means unlike Siege Chromia, Greenlight can combine with Elita-1 or any other Combiner Wars compatible Voyager. It's due for release on June 25th in the US via Amazon, but Amazon doesn't have the product page activated yet. However, it is possible to preorder it, and it's quite simple!
First off, make sure you're signed in with your Amazon account, because we're going to be relying on Amazon's wishlist feature for this. Click this link, which will take you to an Amazon page asking you to add "Currently Unavailable" to your wishlist. It'll look like this.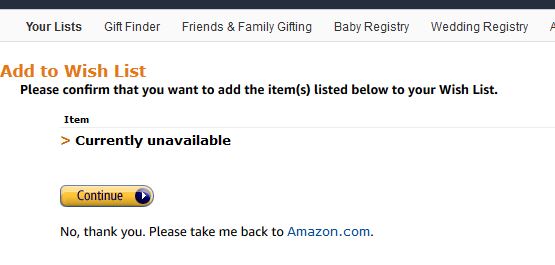 Click continue. You should get a confirmation message which includes a link to your default wishlist which Greenlight has now been added to. Go ahead and click that and go to your wishlist. You should see Greenlight at the top – or all by itself if you don't normally use the wishlists. You'll also notice that where the add to wishlist page said "currently unavailable" now Greenlight's product title and a stock photo are shown. As long as the button to the right says Pre-Order, you're good to go – you can click that and check out like normal!
If it says something like "see all buying options" don't worry just yet. Greenlight will stay on your wishlist, and you can keep checking back on it for it to become available again; you won't need to go through this whole process over again for this toy.
When you preorder Greenlight from the affiliate links in this article, you'll also be helping out me and the site by generating a small amount of referral revenue that keeps things running around here, without any extra cost to you. So, thank you!